(Rachel posts her diary about life here on the farm. You can sign up by e-mailing us via our contact page.) Here's a sample bulletin from March 2017.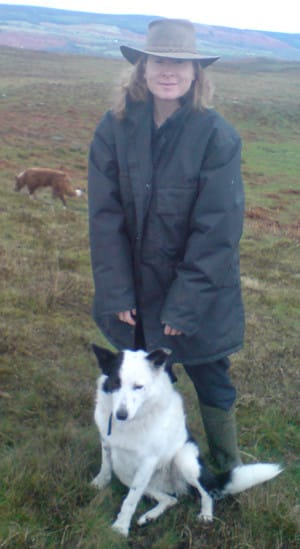 Hello again everyone!
It was a busy new year for us as we had a stall at the London Welsh Centre for their February 18th show.
The centre promotes Welsh culture down there in London and we were going to launch our new Official Offmyland Lush Lamb 20 Minute Recipe Boxes. The fortnight before was a blur of dashing around to make the recipes, taking photos, printing all the fancy instruction cards and eating lamb for tea every night for a week. (Hiccup!)
The idea of our recipe boxes is for all you busy people out there, who perhaps don't have much room in your fridge or freezer, but who still like delicious home-cooked meals. Each box contains five recipes you can either make in 20m flat, or prepare in 20m then leave to slow cook over the rest of the day. We even give you the lamb you need for every recipe -- though we leave the other ingredients up to you (also the washing-up).
The day of the show arrived and we were up long before dawn, bleary and full of lamb, so Freddy the Fridge Van had plenty of time to make it to Gray's Inn Road -- he has a top speed of 60mph and we'd packed him full of luscious Offmyland grub to sell to our hungry London pals.
The day was a tremendous success and we made lots of new friends and sold everything we brought up. We'd done our part to spread a little taste of Wales in the big city, so tottered home exhausted and rewarded ourselves with a HUGE luxury lie-in, staying in bed until nearly 5.30am before going to let the cows out and planting a hedge. It's always all go here on Blaengwawr Farm!