After a hard day on the farm, there's nothing we like better than sitting down to a big tea made with our own lush lamb.
We've been gathering tum-treatingly tasty recipes for a while and thought it would be a pretty terrific idea to share them with you too. Accordingly we've put together our first Official Offmyland Lush Lamb 20 Minute Recipe Box. We've personally tested every recipe (and ended up laying there too full of lamb to move and groaning piteously).
Each box comes with five recipes -- three you can make in 20 minutes flat and two that take 20 minutes to prepare and then you leave them to slow cook for the rest of the day so they're ready when you come home. The recipes are printed on shiny A5 card (ingredients on the front, method on the back) so you can keep them in a drawer ready if the vicar calls round unexpectedly.
We also supply the lamb you need for each recipe. (The other ingredients are up to you. We'll also leave you to do the washing-up.)
Official Offmyland Lush Lamb 20 Minute Recipe Box (includes lamb)
£60Place order
Five recipe cards, plus all the lamb you need for everything. (Non-lamb ingredients are NOT included.)
The recipes are...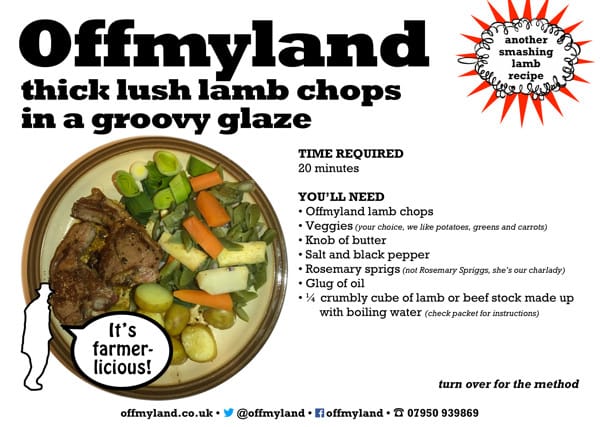 THICK LUSH LAMB CHOPS IN A GROOVY GLAZE
includes 6 thick cut lamb chops
MARVY MERRY MIRIPURI LAMB BREAST CURRY
includes boned lamb breast strips (quarter)
STICKY SUCCULENT KEBABS WITH A ROSEMARY TWIST
includes cubed lamb leg fillet (enough for two people)
MIGHTY MOROCCAN BURGER BONANZA WITH HONEY SALSA
includes lamb shoulder mince (about a kilo)
SLOW COOK WELSH CAWL FOR A LONG LAZY DAY
includes diced lamb leg (enough for two people)